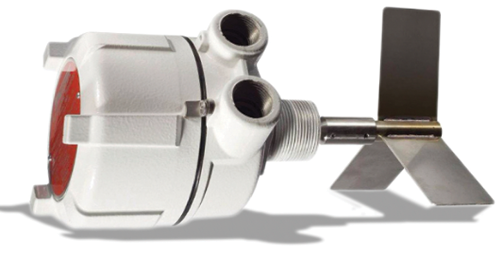 The new BMR-100 rotary sensor from BinMaster offers simple, electromechanical measurement for ordinary storage and processing operations. It is generally wired to a light or horn to alert to high or empty levels.
The rotary sensor is an affordable level switch to alert to vessel levels in solid materials with a bulk density of 2 lb. to more than 100 lb./cu. ft.
The versatile level indicator is offered with a wide range of accessories. There are 19 different paddles for light, medium, and heavy bulk solid materials. Collapsible paddles are convenient for installation without entering the vessel. Carbon and stainless-steel mounting plates options come in 0-, 10-, 20- and 30-degree angles for top mounting on sloped roofs.
Point-level alarm panels display vessel level conditions via a blinking light and an audible alarm with up to 24-level indicator stations. Quick-disconnect accessories can be added to replace hard wiring. They make the BMR-100 easy to install and remove for cleaning, maintenance or replacement. An adjustable top mount allows users to change the high-level threshold simply using an adjustable coupling that can be moved up and down a 72-in. shaft.
The BMR-100 rotary sensor is in stock and available for immediate shipment.