National Cement Dedicates First U.S. Plant Engineered To Run On 100% Alternative Fuels.
By Don Marsh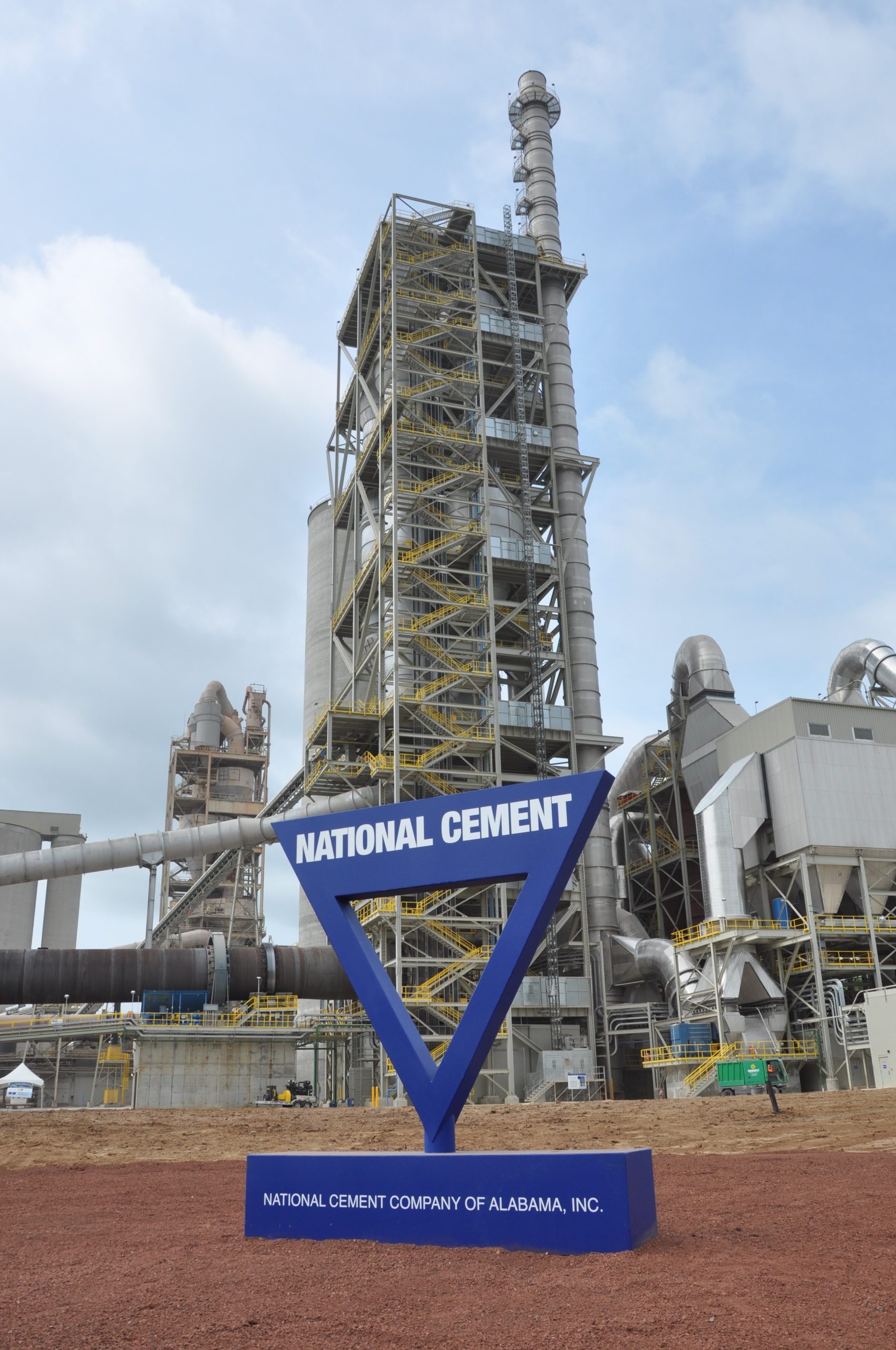 National Cement Company of Alabama Inc. has completed a generation-level plant upgrade at its Ragland location, the $300 million investment certain to drive respective capacity and carbon dioxide emissions/ton metrics on sharply higher and lower trajectories versus prior plant performance.
Ragland Kiln 2 has doubled the potential of its predecessor, becoming the top domestic cement capacity improvement of 2022. With 2 million tons' annual clinker output, it positions National Cement to grow with customers in the Southeast. To better serve them, two new terminals were added in Nashville and one in Atlanta. Modifications were also made to terminals in Jefferson, Ga. and Greenville, S.C. to add capacity to service customers.
Coupled with energy efficiencies built into companion new equipment and facilities, Kiln 2 is poised to yield portland cement whose CO2 emissions factor is 30% below that of the legacy operation. The carbon metric turns on a coal-free fuel mix: Ragland runs the industry's first kiln equipped to fire exclusively on biomass or non-hazardous waste. It has premiered with natural gas fuel, but will soon transition to a mix of wood waste, tire scrap and readily transferred liquids bearing Btu value equal to clinkering demands. A switch from Type I/II to Portland-Limestone Cement, or Type IL, will reduce the CO2 factor in finished Ragland powder another 10% upon scheduled 2023 completion.
"We are firmly committed to replacing fossil fuel-derived energy with regional recycled wastes, taking an ecological stand today that transitions and reduces our carbon footprint," Vicat Chairman and CEO Guy Sidos told colleagues and public officials, led by Alabama Gov. Kay Ivey, during a mid-year Kiln 2 ribbon cutting. "We insist our investments contribute to local development and are extremely proud of the transformation of Ragland."
"This highly energy-efficient operation, combined with the Type IL offering, will make our product one of the lower carbon cements in this market," added National Cement of Alabama President R. Spencer Weitman. "This major investment on behalf of Vicat Group vastly improves our environmental impact and is a big step in the entire cement industry's efforts to achieve carbon neutrality across the concrete value chain by 2050."
The Ragland plant upgrade is a prime example of near-term CO2 emissions reduction measures that Portland Cement Association and Brussels counterpart Cembureau outline in their 2021 proclamations: "Roadmap to Carbon Neutrality" and "Cementing the European Green Deal – Reaching Climate Neutrality Along the Cement and Concrete Value Chain by 2050." PCA, of which Birmingham, Ala.-based National Cement Company, Inc. is a member, cites alternative fuels in the Roadmap's Clinker advisory. Cembureau, with which Vicat Group affiliates by way of SFIC/Association of the French Cement Industry membership, sees the replacement of fossil fuels with non-recyclable and biomass waste as contributing to an emissions reduction up to 15%.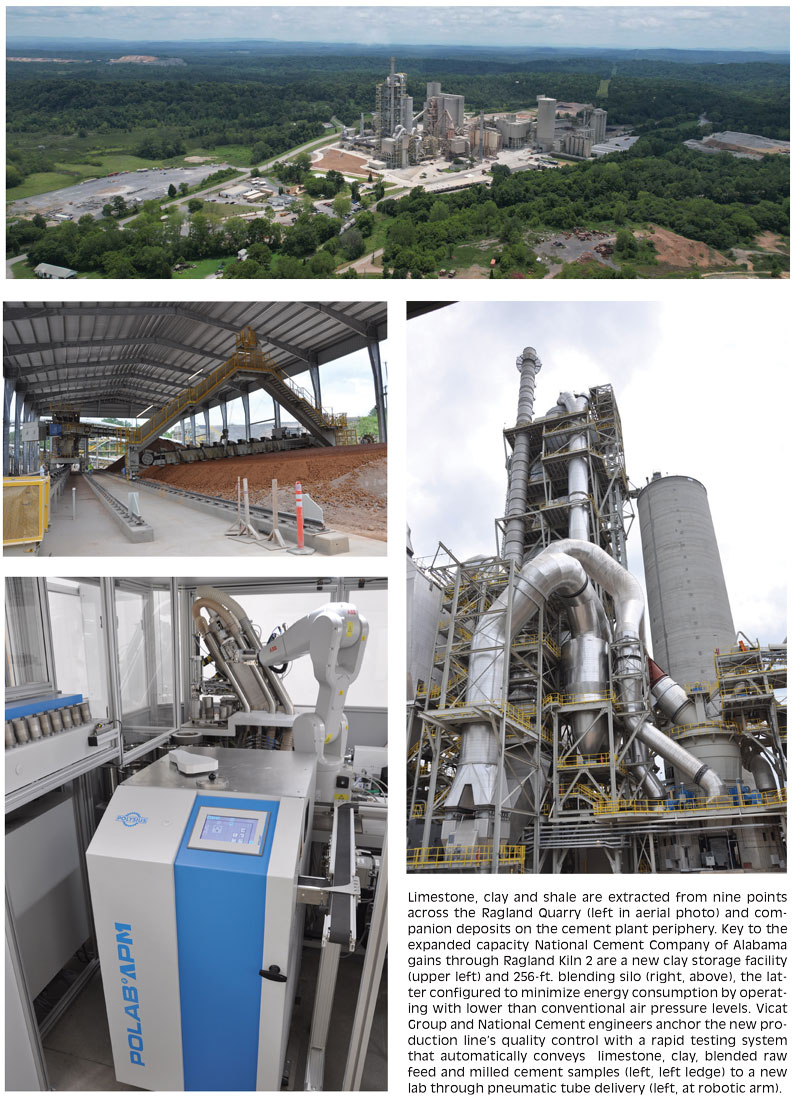 Paid Forward
The Ragland Quarry will serve National Cement of Alabama Kiln 2 and Portland-Limestone finishing lines well beyond mid-century or carbon neutrality attainment. Linked to the cement operation by a 2.6-mile trough conveyor, it harbors nearly 400 million tons of limestone, shale and clay.
The rich deposit was among factors that drew Vicat Group to north-central Alabama in 1974. "The Ragland site is the first acquisition abroad for Vicat, so there is a very personal link for the top management to this plant," explained Project Manager Hervé Lapillonne, deployed to the United States from France to oversee the expansion. "We spent a lot of time in the design and selection of suppliers and contractors. We made sure the proposed production line would exceed U.S. standards and regulations, and represent the best of the art in terms of maintenance and operation."
National Cement of Alabama awarded prime contracts to H&M Construction of Jackson, Tenn., and thyssenkrupp Industrial Solutions, Atlanta. The latter delivered a new clay crusher and storage system, roller mill, preheater, rotary kiln and clinker cooler. "The core of the project, of course, is the kiln itself," said National Cement Senior Vice President of Engineering Jean-Claude Brocheton, who oversees Alabama and National Cement Company of California Inc. facilities. "We have designed Ragland Kiln 2 for an operational limit of 5,000 metric tons per day of clinker. New equipment and technology will help raise output with a lower carbon footprint."
A key example of power generation-rooted, CO2 emissions savings in the new plant design stems from energy efficiencies realized at the heart of the 256-ft. high, cast-in-place concrete blending silo. Its inverted cone, combining reinforced concrete and structural steel elements, directs material away from, instead of toward, the center. The design differs from older homogenizing silos requiring large compressors and significant amounts of pressurized air to prepare raw feeds for kiln transfer.
In addition to the advanced blending silo, kiln and clinker cooling scheme, Brocheton cites the Ragland plant's new state-of-the-art control room and laboratory. "There is a lot of automation associated with this construction and everything is operated from one central point," he said, noting how operators have an expansive view of raw material, kiln and clinker transfer points from the control room.
A new cement lab adjacent to the control room includes a pneumatic tube handling system that expedites the daily transfer and testing of material samples from all points: quarry, limestone and clay crushers, raw feed blending silo, plus clinker and finished cement silos. Concurrent with the plant and lab work, National Cement of Alabama is doubling Ragland rail loadout, speeding deliveries across an expanded Southeast market radius.
Don Marsh is the editor of Concrete Products magazine, sister publication to Cement Products.