New Electric Technology Hitting The Market Is Designed To Address The Sustainability Revolution In The Construction Materials Industry.
By Mark S. Kuhar
Cement producers seeking to develop the safe, productive, smart and clean workplaces of the future are looking hard at innovations in electric technology. There is no lack of innovations coming to market.
For instance, Holcim US entered into its first virtual power purchase agreement (VPPA) linked to renewable energy generation. Through the Electric Reliability Council of Texas (ERCOT) agreement at least 38% of the company's total power consumption at all of its Texas production facilities will be from renewable energy generated at a large wind farm in Coke County.
The agreement complements Holcim's ongoing investment in on-site renewable energy generation, participation in community solar farms, and significant gains from electrical efficiency investments.
"Holcim US is driving forward momentum to meet our Green Growth Strategy goals by incorporating new technologies and processes at every level," said Atl Martinez, vice president, procurement, Holcim North America. "We're increasing the energy efficiency of our operations to use less energy while accomplishing more. From our largest cement plants to our aggregate sites, terminal sites and offices, we're looking at our full environmental impact and optimizing in every area we can."
Through several wind and solar contracts on the horizon, Holcim US is set to avoid an estimated 5,000,000 metric tons of CO2 emissions.
Holcim US currently generates on-site renewable energy in Paulding, Ohio, with three wind turbines generating up to 4.5 MW of power, and in Hagerstown, Md., with a 10-MW solar array, which reduces CO2 emissions by 28,000,000 lb. annually. Additionally, a total of 68 MW of solar arrays are under contract in Colorado, Michigan and Arkansas, along with a 40-MW battery storage system in Colorado.
Electrically Heated Rotary Kiln
VTT Technical Research Centre of Finland announced the successful completion of several experiments with different feedstocks of its electrically heated rotary kiln. 
Finnish cement supplier Finnsementti and Nordkalk, a leading manufacturer of limestone-based products, participated in the test process. The experiments were completed between November 2021 and October 2022.
"Limestone is one of the most used raw materials in the world, so it is urgent we find ways to use it in a more environmentally friendly way. At VTT, we have been able to make the crucial calcination phase more sustainable," said Eemeli Tsupari, principal scientist at VTT. "With tests of our electric kiln, we have proven that replacing combustion processes with electricity-based solutions is an effective means of curbing climate change. Furthermore, the quality of the burnt lime product is good."
The pilot kiln was designed with convenient transport in mind. When housed inside a cargo container, it can be easily transported to industrial plants and used in different production processes.
"With proof of concept for the electric kiln in the precalcination phase, we are on the path toward fully decarbonizing the second burn process by considering new carbon-free heat sources, such as hydrogen, to reach the necessary temperatures," said Tsupari. "Next, we would love to find a technology partner to help us build a large kiln to scale the output."
Electric Freight Rail Car 
RHT RailHaul Technologies recently completed the design, manufacture and assembly of its first battery-powered demonstration rail car. 
The initial vehicle was based on a traditional side dump rail car, but RailHaul added its unique battery electric propulsion system as well as a remote operating and control system. It then used off-the-shelf components to provide elements for low cost and high reliability.
The RailHaul heavy haul rail car provides an alternative to heavy haul diesel mine trucks to save mining companies millions of dollars in haulage costs while also accelerating their progress to reduce greenhouse gasses.
"Rail based vehicles are inherently more efficient than trucking, and RailHaul is working to bring its technology not only to the mining sector but also to help improve the efficiency at ports, and to improve access to remote communities and critical resources," the company said.
"Studies of mining clients' haul routes have revealed potential cost savings of 30% to 40% and a reduction of CO2 emission up to 95%. This is consistent with long-term results from the conversion of urban diesel buses from diesel to battery electric."
RailHaul has commenced operational and validation trials of its demonstration vehicle, including testing of its proprietary AC traction system. Initial results show design and performance expectations are being achieved.
Once the operational trials are completed, the initial demonstration vehicle will serve as RailHaul's rolling platform for innovation and provide a test bed for it and its partners to apply future generation designs and technologies such as semi-autonomous control and hydrogen power systems.
"We have already seen strong interest in our approach and our technology from leading mining companies, ports, and railway operators in North America," said President, Co-Founder and CEO Michael Price.
"This first vehicle is an important step in proving that we can deliver the performance and value we have been discussing."
The RailHaul system is based on a self-propelled heavy haul rail vehicle, controlled remotely or semi-autonomously and operated individually or in a multiple unit combination of powered and unpowered rail cars. The vehicles are highly configurable and provide for distributed power and energy harvesting capability. This enables the vehicle to climb much steeper grades at higher speeds for added productivity than traditional rail or truck systems. The initial focus is for open-pit mining applications, ports, and remote communities where the operating duty cycles strongly benefit from RailHaul's innovative approach.
Added Frank Donnelly, another co-founder and the CTO: "We are integrating proven components and systems in our designs, delivering low risk, high reliability, customized haulage solutions. Substantially lower capital and operating costs with dramatically lower green-house gas emissions are achievable through our RailHaul electric freight vehicle."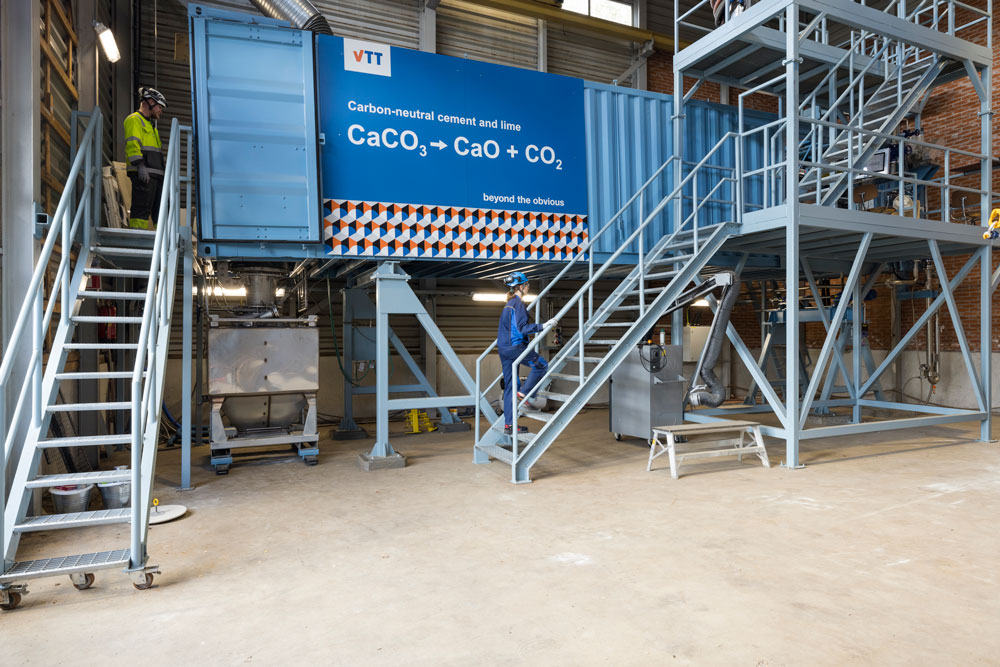 Net Zero Mines
ABB has signed an agreement with mining services group Perenti to collaborate and explore approaches to support net zero emissions targets for underground and open-pit mines. Experts from the two companies will work together to address electrification in mine hauling operations, power distribution, energy efficiency and power management.
Australia-based Perenti has significant mining expertise and technical capability, which complements ABB's technology expertise. Together, the teams plan to explore business models and solutions to provide wider services for pilot, brownfield and greenfield mining customer projects to support the electrification of operations.
ABB has been calling for open collaboration within the mining industry and has taken action on several similar initial non-binding agreements to build commitments with original equipment manufacturers (OEMs), technology innovators and mining companies. Key relationships have subsequently been formalized, with technologies and solutions created as a result of these deals.
"Mining customers are committed to facing environmental, societal and economic challenges head on as they aim to decarbonize mining operations," said Joachim Braun, Division president, process industries, ABB. "With ABB's sector leading position in electric-mine technology development, and Perenti's excellence and experience in mine development and mine operations, the scope of this collaboration is a perfect opportunity to make real progress in providing electric solutions that will decarbonize the industry."
"ABB and Perenti share a vision to develop energy efficient solutions for the mining industry," said Mark Norwell, managing director and CEO, Perenti. "By combining our experience across mining operations and digital solutions with ABB's leading technologies we are focused on supporting the decarbonization of mining through electrification. We look forward to working with ABB on this exciting new venture."
ABB is committed to creating sustainable progress for today and for future generations by helping mining customers through their energy transition. ABB launched its ABB Ability eMine portfolio of technologies and methodologies last year, an approach to make the all-electric mine possible, with fully integrated electrification and digital systems from mine to port.
Perenti is committed to acting on climate change through promoting innovation, developing and deploying low emissions technology and working with its clients to implement projects that improve energy efficiency and reduce emissions.
Zero-Emissions Trucks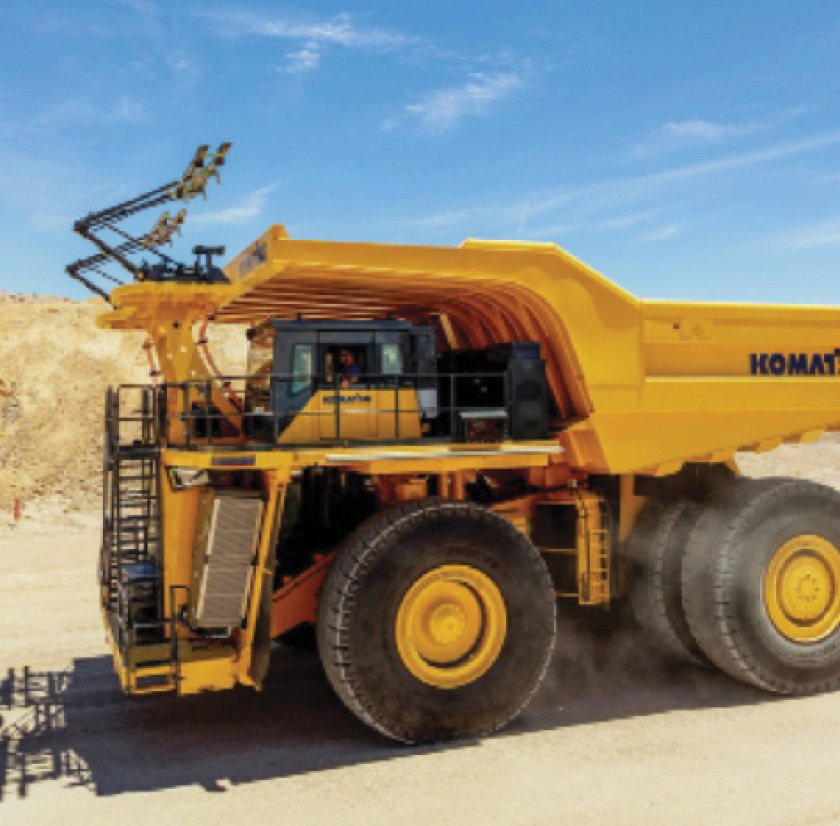 Komatsu and Cummins have signed a memorandum of understanding to collaborate on the development of zero-emissions haulage equipment. Building on a legacy of diesel engine partnership across a wide variety of mining and construction equipment, Cummins and Komatsu will initially focus on zero emissions power technologies including hydrogen fuel cell solutions for large mining haul truck applications.
In August 2021, Komatsu announced its power agnostic truck concept for a haulage vehicle that can run on a variety of power sources, including diesel electric, trolley, battery power and hydrogen fuel cells. Working with Cummins is complementary to Komatsu's development of the power agnostic truck.
"Komatsu's deep expertise in mining and equipment design and integration paired with our advanced power technologies including hydrogen fuel cells will accelerate decarbonization of mining equipment," said Amy Davis, vice president and president of new power at Cummins. "The mining industry has great potential to lead in adopting renewable solutions."
As a leading independent power provider in the mining segment, Cummins provides unique application understanding that is critical to introducing reliable, quality products that can withstand the harshest environments. Cummins has a broad portfolio of batteries, fuel cell systems and electrolyzers (for generating hydrogen), that are key building blocks for decarbonization. Together, the two companies have a long history in the global mining market and strong technical capabilities necessary to develop these new solutions.
"Cummins has been a long-term partner of Komatsu and has been investing in the key technologies required to support the energy transition in mining," said Masayuki Moriyama, president of Komatsu's Mining Business Division. "These are critical technologies for helping mining customers reduce carbon emissions and accelerate carbon neutrality. Building on our partnership with Cummins, we are working to accelerate sustainable solutions for our customers."
The alliance's initial target is advancing Komatsu's power-agnostic truck concept, with a goal of commercial offering in 2030.
Hydrogen Fuel Cell Articulated Hauler
Volvo Construction Equipment (Volvo CE) continues acting on its commitment to drive change towards a net-zero future. Following the completion of a multi-stakeholder research project aimed at breaking new ground in hydrogen technology, the company has started testing of the world's first fuel cell articulated hauler prototype, the Volvo HX04. The results of the project will provide important insights into the possibilities provided by hydrogen and fuel cells as Volvo CE continues research for its future product development programs.
Acting on its Science Based Targets initiative (SBTi) commitment of net-zero value chain greenhouse gas emissions by 2040, and driving industry transformation toward carbon neutrality, Volvo CE has accelerated its work into sustainable power sources.
Besides battery-electric solutions, where Volvo CE is already offering the largest range of commercial products, the company's efforts also include exploring the potential of electrification through hydrogen fuel cell technology. Now, an important milestone has been reached with the testing of a world-first emission free hydrogen fuel cell articulated hauler prototype, the Volvo HX04.
Carolina Diez Ferrer, head of advanced engineering programs at Volvo CE, said, "Being inventors of the world's first articulated hauler more than 55 years ago, we are happy and proud to again drive change with this fuel cell hauler concept. While an early prototype, this innovation will give valuable insights into the opportunities of hydrogen in the energy transformation alongside battery-electric solutions. We believe that by exploring multiple technologies and working in partnership we can create the best path forward to decarbonize the construction industry."
The Volvo HX04 is the result of a research project running between 2018 and 2022, with funding from FFI, a national collaboration between the Swedish Innovation Agency VINNOVA, Swedish Energy Agency, and Swedish Transport Administration, to support sustainable vehicle strategic research, innovation and development. Partners include Volvo CE, RISE Research Institutes of Sweden, who provided specialist competence on driveline development and safety, and PowerCell Sweden, a developer of fuel cell-based hydrogen-electric power solutions.
The development and building of the six-wheel prototype has largely been carried out at Volvo CE's facility in Braås, Sweden – the same location where Gravel Charlie, the world's first articulated hauler, was born back in 1966, giving the Volvo HX04 the nickname "Electric Charlie." Engineers at the Technology Center in Eskilstuna, Sweden, have contributed with software development and knowledge gathered through its fuel cell test lab. While not commercially available, valuable insights from the concept will inevitably inform future production.
Infrastructure for hydrogen is still in development, which means refueling the Volvo HX04 is an important aspect to solve in the project. Shell installed a state-of-the-art hydrogen refueling station at the Volvo CE test track in Braås. Both Shell and Volvo Group are founding members of H2Accelerate, a collaboration of companies working to foster conditions for the mass market roll-out of hydrogen trucks in Europe.