The U.S. Department of Energy (DOE) released new Pathways to Commercial Liftoff reports focusing on the opportunities and challenges that lie in achieving industrial decarbonization.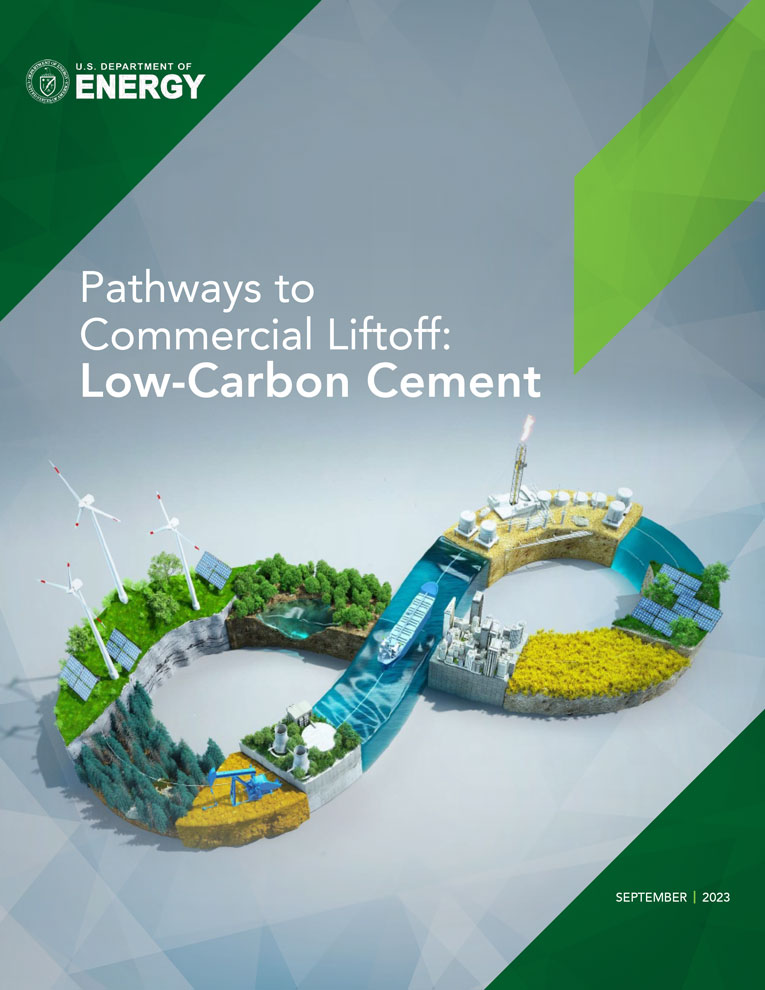 "The reports released today provide in-depth analysis of emerging technologies and clear benchmarks to help guide targeted investments and propel the U.S. toward our clean energy future," said U.S. Secretary of Energy Jennifer M. Granholm.
The Pathways to Commercial Liftoff: Low-Carbon Cement report tracks carbon dioxide emissions reduction benchmarks for the industry from 2030 to 2050, the latter years primed to address the 60% to 70% CO2emissions cuts needed beyond those presently within reach.
Authors define the Pathway to Liftoff on these tracks: 1) currently deployable measures, notably clinker substitution, energy efficiency, alternative fuels; 2) carbon capture, utilization, storage (CCUS) through retrofit installations and integration into new plants; 3) alternative production concepts, including non-traditional feedstocks and equipment other than rotary kilns; and, 4) alternative binder chemistries to traditional cement clinker.
To realize carbon-neutral operation by 2050, authors list among key challenges or considerations for producers and downstream stakeholders:
Market lacks uniform standards to define low-carbon materials and enable informed procurement.
Industry can see a 10- to 20-year adoption cycle for new blends and materials, reflecting lengthy lead times for updating standards and customer acceptance.
Decarbonization approaches may come with structural cost increases.
CCUS or other project types may lack support from local communities and the public due to environmental and safety concerns.
Pathways to Commercial Liftoff: Low-Carbon Cement is the latest in a series through which the DOE aims "to establish a common fact base and ongoing dialogue with the private sector around the path to commercial clean energy technologies across core U.S. industries."
The Industrial Decarbonization Liftoff series addresses cement, aluminum, chemicals, food and beverage processing, glass, iron and steel, plus pulp and paper – the eight industrial sectors of Inflation Reduction Act focus.
Pathways to Commercial Liftoff: Low-Carbon Cement can be viewed here.