Vicat Group subsidiary National Cement Co. of Alabama staged a ribbon cutting of a new production line at its Ragland, Ala. plant on July 21, capping a two-year, $300 million project that will increase plant capacity to 2 million tpy and help lower the company's carbon footprint by at least 40%.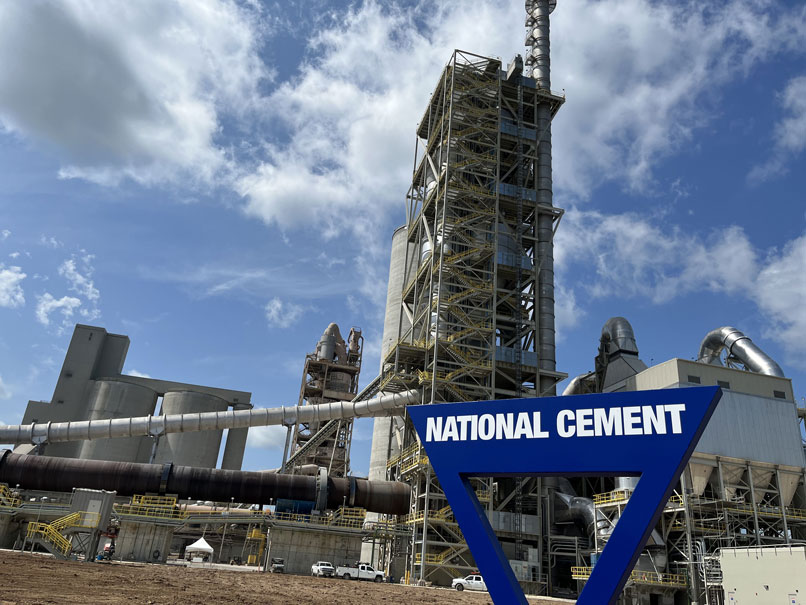 The key component of the new line is a rotary kiln that replaces coal with various fuels such as recycled wood chips, saw dust from area furniture and cabinet manufacturers, and Tire-Derived Fuels (TDF) composed of shredded scrap tires.
"We are firmly committed to replacing fossil fuel-derived energy with regional recycled wastes, taking an ecological stand today that transitions and reduces our carbon footprint," said Vicat Chairman Guy Sidos. "We insist our investments contribute to local development and are extremely proud of the transformation of Ragland, our very first acquisition outside of France."
National Cement embarked on the ambitious project in January 2020 with complex civil engineering site work and slipform construction of a 256-ft. blending silo. During 2021, crews simultaneously erected a vertical raw mill, a preheater tower with an advanced kiln line and cooler, an automated clay storage system, an alternative fuel storage facility and finally, a fully automatic integrated laboratory and control center.
The primary goal of the project is to meet the global climate challenge head-on and be ready for the Southeast's coming demand for building materials that have a lower carbon footprint.
"By 2023, it's expected that all of the Type I general purpose portland cement (OPC) produced in Ragland will be switched to Type IL portland-limestone cement (PLC), an innovative blended cement that contains up to 15% limestone," said R. Spencer Weitman, president of National Cement.