Leilac signed a memorandum of understanding (MoU) with direct air capture company Heirloom for the use of Leilac's kiln technology in the latter's solution.
The partnership between Leilac and Heirloom brings together two leading climate technologies to provide an innovative, highly efficient and easily scalable approach to atmospheric carbon dioxide removal by direct air capture.
The MoU outlines key terms for a global and binding license and collaboration agreement, expected to be executed in the coming weeks.
"Leilac is delighted to be partnering with Heirloom. Our partnership will apply Leilac's core technology for cement and lime decarbonization to address the global challenge of excess atmospheric CO2," Leilac CEO Daniel Rennie said.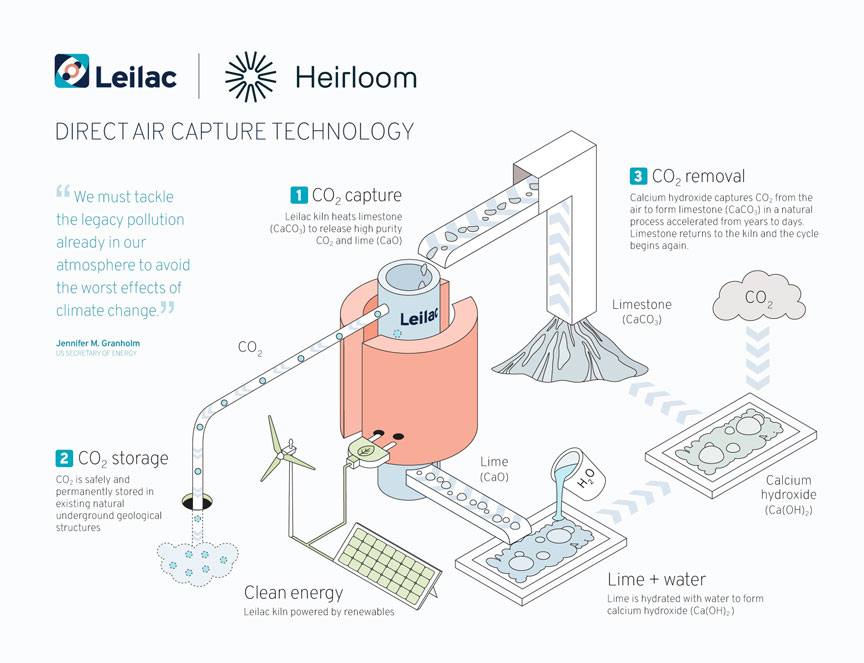 Leilac's decarbonization technology provides an efficient solution for the separation and abatement of unavoidable process emissions released in the production of cement and lime and is designed to be powered by renewable energy sources and clean alternative fuels.
Heirloom will apply the same core Leilac kiln technology for direct air capture of CO2 emissions from the atmosphere. The partnership will also further accelerate development of Leilac's decarbonization solutions for industrial emissions in cement and lime, helping to pave the way for full scale industrial electrification and CO2 abatement.
"The collaborative and cooperative approach outlined in this agreement aims to accelerate the learning, synergies and steps to scaling that are needed to achieve our global climate ambitions and commitments. We are very excited to see the results we can achieve together," Rennie concluded.