Prometheus Materials achieved two foundational certifications from ASTM International for its bio-cement, providing the company with prominent recognition as it launches production.
The company proved the efficacy of its technology in concrete masonry units, successfully testing specimen blocks to ASTM C129-22, Standard Specification for Nonloadbearing Concrete Masonry Units and ASTM C90, Standard Specification for Loadbearing Concrete Masonry Units performance requirements.
"We are thrilled to have achieved these two foundational certifications as we proceed in full-force with our goal of decarbonizing construction," said Loren Burnett, CEO of Prometheus Materials. "Prometheus Materials' product is poised to change the future of construction, converting one of the most carbon-polluting industries to a low-carbon – and one day net-zero carbon – reality."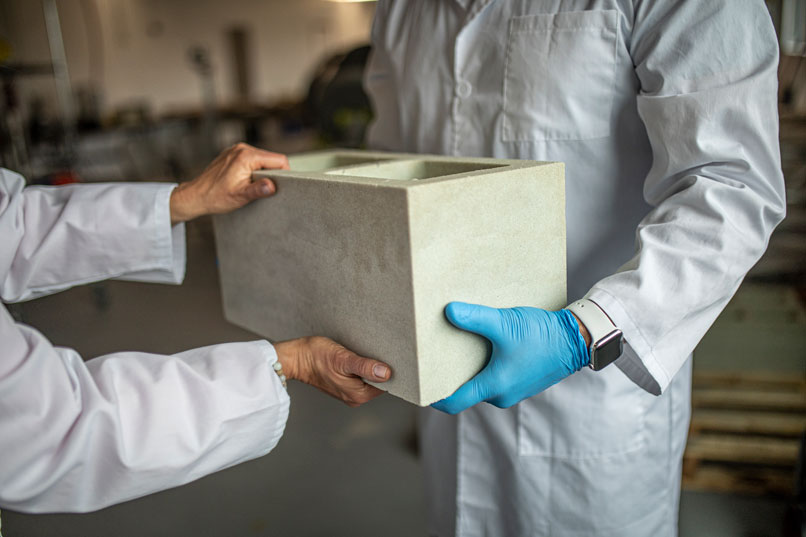 Prometheus Materials offers a sustainable alternative to carbon-intensive portland cement. When mixed with aggregate, its bio-cement forms an ultra-low carbon bio-concrete that offers mechanical, physical and thermal properties that are comparable or, in some cases, superior to portland cement-based concrete.
In contrast to traditional portland cement, Prometheus Materials' microalgae-based bio-cement emits little-to-no CO2 and recycles 95% of the water used during its production. Following production, the bio-concrete has the ability to sequester embodied carbon throughout its lifespan.
"The future of sustainable building solutions is here," said Vishaan Chakrabarti, board of directors, Prometheus Materials. "With key certifications achieved, I'm hopeful that Prometheus Materials' product will be deployed at scale in the near future, serving as a major replacement of the carbon-intensive concrete we know today."